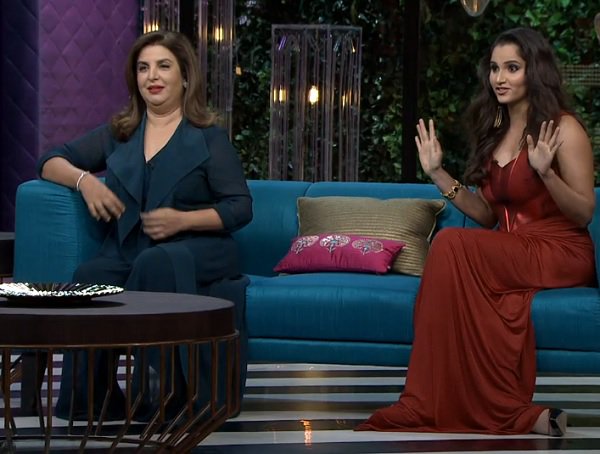 The last night episode of Koffee With Karan show was fun and entertaining as it marked the best friends from different field unite ie Ace Director Farah Khan and Sport Personality Sania Mirza. The talented director Farah Khan didn't disappoint as she was her candid and wittiness, while on the other hand tennis ace Sania Mirza was diplomatic and thought twice before she speaks.
Mischief, madness, & some mind-blowing fun with @TheFarahKhan & @MirzaSania on the Koffee couch! #KoffeeWithKaran pic.twitter.com/jhsKZYhTrR

— Star World (@StarWorldIndia) January 29, 2017
The highlight from yesterday show was when Karan Johar quipped Farah Khan what advice would she give to her friend who is dating Ranveer Singh, she said, "I'd advise her to take a pack of condoms. OMG still can't believe she said this. KJo also shared that an anecdote that he called Sania the minute he found out about her becoming number one. Also, it was nice to see Sania Mirza leaving her diplomatic approach and went all gun blazing – he is saying that the men in the industry shouldn't wear shirts at all and quite a lot more.
From the coolest Khan to her favorite shirtless actor, @MirzaSania reveals it all! #KoffeeWithSania pic.twitter.com/izbPjVyIYF

— Star World (@StarWorldIndia) February 5, 2017
We also at end of the show got a peek into who will be the guest in the next week episode and its none other than Kjo's two children Alia Bhatt And Varun Dhwan who are going to grace the show this Sunday. The lead pair of Badrinath Ki Dulhania are at their hilarious best at the promo of the upcoming episode. Badri also reveals that his dream girl Vaidehi is in Sidharth Malhotra's relationship.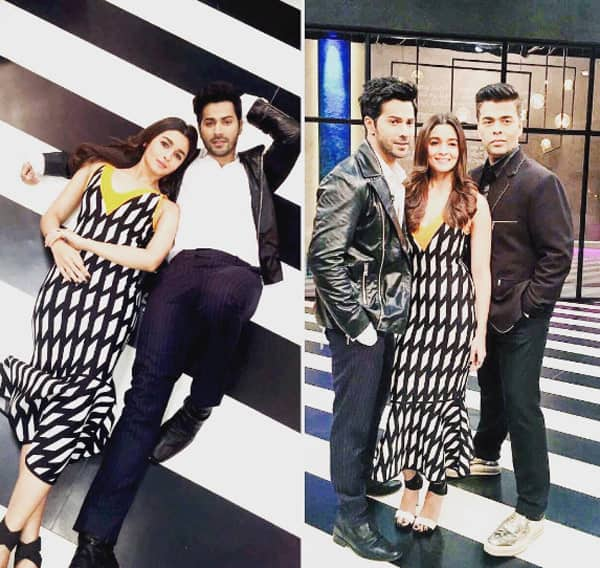 Later on Kjo quipped Varun What's that one thing Sid has but you don't have", the hunk gave a strange look to Alia.

Another highlight was when during a game, KJo asks Alia to reveal three citrus fruits and she says: "Orange, santra.." then Karan interrupts her saying: "Orange and santra are the same things" and she bursts out laughing.
This will for the first time will Alia Bhatt appearance twice on one season – Koffee with Karan. The actor earlier came with badshah of Bollywood Shah Rukh Khan to promote their move Dear Zindagi and this time the actor came along with her Badrinath Ki Dulhania Co-Actor Varun Dhawan.
Watch the Koffee Tease here:
Gear up for @Varun_dvn​'s boyish charms & @aliaa08's cuteness in the next episode of #KoffeeWithKaran! @oppomobileindia pic.twitter.com/9FkkfQQ3JF

— Star World (@StarWorldIndia) February 5, 2017