Veteran actress Rajnikanth is quite active on social media and on regular interval can be seen sharing his opinion and keeping in touch with his fans. Recently the legend of Indian Cinema watched trailer of Sachin Tendulkar and was mesmerized by it.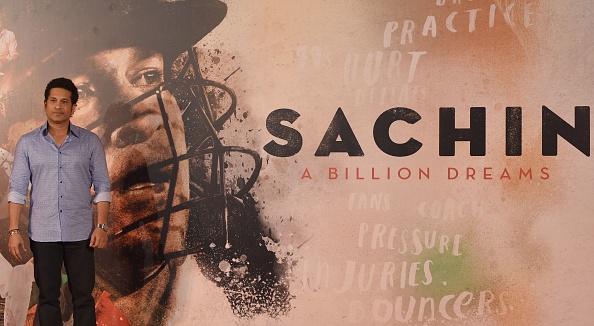 The iconic cricketer recently released his movie trailer last night and was quoted saying that the movie isn't just restricted to the game of cricket but also explores another prominent aspect of his life and added that this movie is not just about my cricket career.
Celebrities from sports player to Bollywood industry praised the trailer of the movie on social media. The said trailer has been very well appreciated by the fans and the critics alike. Needless to say, the build up to the movie is getting huge.
The movie is titled 'Sachin: A Billion Dreams', which will hit the cinema near you on the May 26. Legendary actor Rajnikanth who is eagerly waiting to watch the movie. It's no denying that the actor has a huge fan following in our country and is worshipped as a God.
Here is the sweet social media interaction between two legends and it is truly heart wrenching :-
The Robot 2 actor wrote on twitter :- Dear @sachin_rt , my best wishes for the success of 'Sachin … a billion dreams'. God bless."
Dear @sachin_rt , my best wishes for the success of 'Sachin … a billion dreams'. God bless.

— Rajinikanth (@superstarrajini) April 18, 2017
Master blaster was truly touched by the words of encouragement that he got from the Iconic actor and personally thanked him. He hoped and prayed that the Thalaiva will enjoy the movie. Also its no secret that more is releasing in multiple language and one of them been 'Tamil'. Sachin Tendulkar played some superlative knocks had come at the venue in Chennai. The actor also released the trailer of the movie in the Tamil version
Thank you Thalaiva. Hope you enjoy this in Tamil. @superstarrajini #TamilTrailer https://t.co/eeUpqIA8mW https://t.co/x75DK1LpmJ

— sachin tendulkar (@sachin_rt) April 18, 2017
The much-awaited film will be released on May 26 in all theaters all over India and fans are excited to see Sachin's personal life closely as this movie emphasis on small details of his life which are not revealed even in his autobiography Playing it My Way. The trailer of the film will be unveiled shortly.