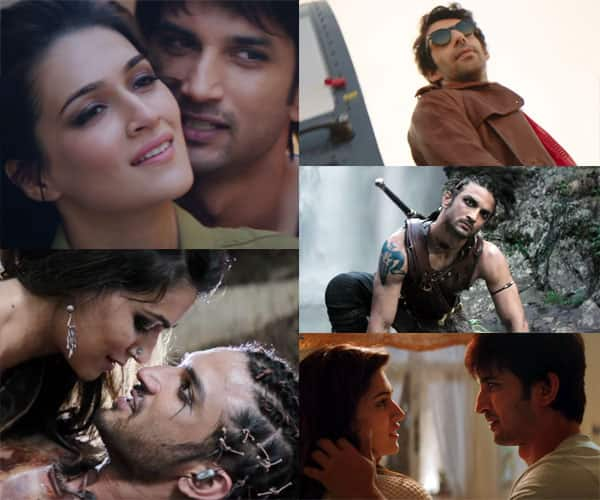 Kriti Sanon and Sushant Singh Rajput released the trailer of their upcoming movie – Raabta in a unique manner. In the trailer, we get to see that Sushant is flirting with Kriti Sanon but everything upside down with the entry of Jim Sarb, We get to see a tribe of
warriors fighting for survival. The movie seems to be a timeless love of the two souls connected with a romantic bond, over centuries.
Sushant Singh Rajput and Kriti Sanon looked stunning and their chemistry is mesmerizing which we find from the first look of the trailer. Both of them have been seen giving public appearances to attending functions together to going on romantic drives together. They seem to be inseparable these days.
We are still lost in the trailer, the Reel Dhoni shared a picture on social media in which he can be seen deeply in love with his female counterpart. He also thanked viewers for the love that they are showering on the movie trailer. He further wrote that 10 million hits in less than 24hrs. I just want to thank you guys, it's this that lets someone like me to dare chase after his dreams. #Raabta."
In the said picture we can see that Sushant and Kriti are raising the temperature with their hotness on social media! HAWTTT, isn't it?
Kriti Sanon shared a video on social media in which both of them are having a really adorable conversation and also reveals that Sushant is cheating on his diet and is having chocolate. Kriti wrote, " Wooohhoo! Woke up to the 10Million love for #Raabta trailer !! Thankk you guys!! Chocolate toh banti hai!! @sushantsinghrajput" Of course, chocolate toh banti hai!
During the recent media interaction, the Sushant was asked about their sizzling chemistry, he was quoted saying that We both are engineers and from Delhi, so we have a lot of common things between us."
It's no secrets that movie major plot is no reincarnation when the journalist quipped the lead pair regarding their opinion this is what they said:-
Sushant Singh Rajput: "I don't believe in reincarnation."
Kriti Sanon: "Through the film, I started believing in reincarnation."
The movie is being produced by Maddock films and T-Series and is slated to release on June 9. We get to see the movie trailer below:-