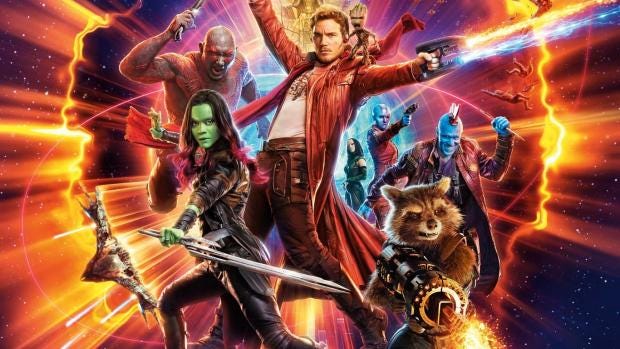 The first look of the Guardian of galaxy came out in October last year in which we get to know that Star-lord and the team are back with a bang and ready to defeat the evil once again. The team launched its first trailer is starting off the month.
Anyone can save the galaxy once. Watch the new trailer for #GOTGVol2 In cinemas May 5. Obviously.#StarLord #Drax #BabyGroot #rocketraccoon pic.twitter.com/JnVcIVeYy0

— Marvel India (@Marvel_India) March 2, 2017
The production team is back with a second trailer and it has a special song which will be remembered by subcontinent audience. The said song which features in the trailer is Hindi track Jhoom Jhoom Jhoom Baba which is one of the most popular songs in India.
In the said trailer we can see the marvel superhero character dancing on the tunes of Bappi Lahiri's classic disco number, which has won the hearts of Indian's fan.
Another highlight of the movie is that former wrestler Dave Bautista and Zoe Saldana took to social media to send a special message to their fans in India and quoted saying that Namaste India, I'm Dave Bautista and I'm Zoe Saldana and here's something special from the Guardians of the Galaxy, just for you. Obviously."
#TheGuardiansSong is just a few minutes away.

But here's a special message for India from the Galaxy.
Watch Now.#GotGVol2 #InCinemasMay5 pic.twitter.com/a56uDqteey

— Marvel India (@Marvel_India) April 20, 2017
The movie 'Guardians of the Galaxy Vol. 2 ' is all set to hits theaters on May 5, 2017. Do tell us did if you liked the first look of Twisted in the comments section below?