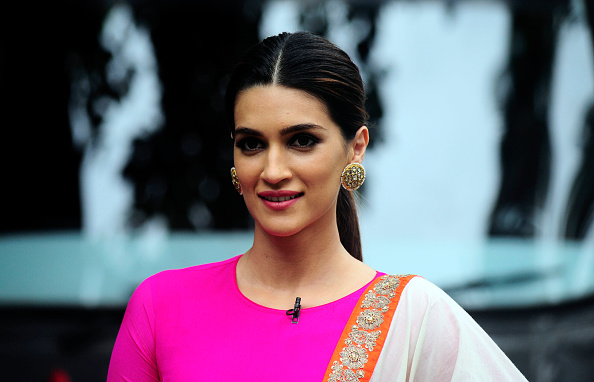 The movie Bareilly Ki Barfi has been helmed by Ashwiny Iyer Tiwari and her upcoming project is a romantic comedy which has been based out of the North Indian city Bareilly. It also brings together of talented star cast of Ayushmann Khurana, Kriti Sanon, and Rajkummar Rao.
The makers of the movie released the trailer of the movie and its looks quite thought-provoking. Kriti Sanon is essaying the role of small time girl and her character is called Bitti, who is in search of finding ideal groom but she has a condition that she wants a man who will accept her the way she is. Ayushmann is essaying the role of Chirag Dubey who is the owner of a printing press who's sole mission in life is to woo this peculiar yet adorable girl of Bareilly.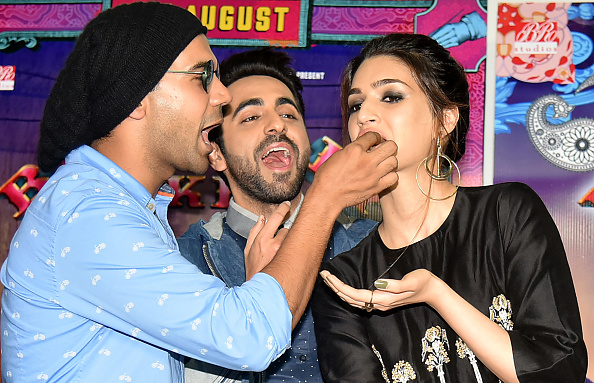 But the twist comes when Ayushmann is head over heals over Kriti but she is in love with a simpleton, Pritam Vidrohi which is being essayed by Rajkummar Rao. First few seconds of the trailers we get to know about Kriti Sanon's character. some of the facts been she belongs to Bareilly, she does break dance, watches English movies and has lost her virginity and not ashamed of it. Kriti character lives life on her own terms and lives for a moment. She is someone who is quite obnoxious and always ready to questions the basic customs.
The movie success is crucial to Leading lady Kriti Sanon who's the last movie Raabta failed at the box office. As informed earlier. Kriti character lives life on her own terms and lives for a moment. She is someone who is quite obnoxious and always ready to questions the basic customs who lives a small town, Bareilly in Uttar Pradesh. This will also mark the first time that actress will be seen in a de glam avatar and we can't wait to watch the movie.
Kriti during a recent interaction with media quoted saying that the movie isn't a regular love triangle and there is more to the movie than just that. She further added, "I think personally it's not about a love triangle, it's more of a family film. You will see so many relationships unfolding and not just the love triangle. There's a father-daughter relationship, a mother-daughter relationship. There are friends and how they deal with each other and their friendship. So, it has a lot more than just a love triangle and it's not about the romance, it's a situational comedy that's happening here."
Kriti is essaying the role of a girl from a small town in UP and to get into the skin of character visited Lucknow and Bareilly to interact with the people and also hired a Dialect coach to get a better understanding of nuances that come with the UP culture. Dilwale actress further added that "Considering I've never done a role like this before, never lived in UP, or been close to a person from that state, I had no clue about the lingo or the culture. I needed to get acclimatized to everything. Hence, I went a week before to Lucknow where we were to shoot for the film. Ashwiny, our director, kept sending pictures of the locations. She would say–'Kriti, see your house, your balcony, the road outside your house and things like that".
She also visited school and collages in the city to interact with a few girls. "It was quite interesting. I spoke to nearly 15-20 girls for almost an hour or two. We chatted like how normal friends would do and I was recording their conversation. They started talking about their boyfriends, what they do, where they're from and so on. A lot of them were living as paying guests," she said. Apparently, they also told her how they react when boys eve tease, a glimpse of which we saw Kriti do, in the second song of the film, 'Nazm Nazm' that released a few weeks ago. " When I went back home, I kept listening to the recording and I believe when you spend too much time with someone you start talking like them. That's how I picked up the dialect and the body language."
During the interaction talked about her favorite trade in her role in the movie and revealed saying that it has to be a relationship which Bitti shares with her father, which is played by actor Pankaj Tripathi. She further added that "I don't think it's been seen in Indian cinema before especially when it comes to a small town like Bareilly. There's also a scene where the father and daughter smoke together. He understands and trusts her completely but at the same time is very protective towards her."
He further added that playing Bitti was also a challenge as she is quite a 'moofat' and loud girl. "When you get a character who is so outspoken and out there, it's very important to ground her. It's also important for an actor to make people feel for her character and not just have this bubbly aura going on. The audience needs to feel what she's actually going through and what she wants in life. And I think that was perhaps the most challenging part for me to bring forth on the screen."
Also, this will be the first time Kriti and Ayushmann will be sharing the screen space together. it will be curious to see if there manage to create the sizzling chemistry in the film. The movie has been produced by Junglee Pictures and BR Studios.