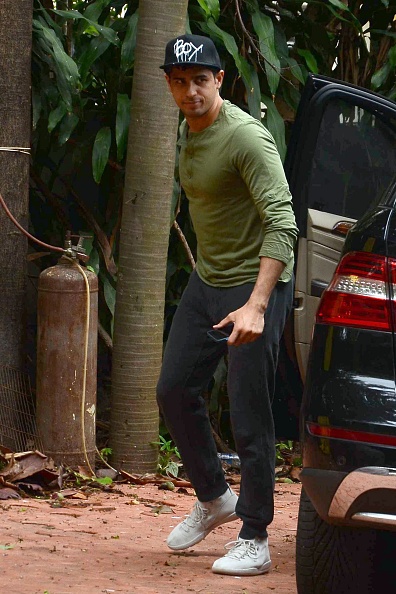 Sidharth Malhotra is an Indian actor and former model who appears in Bollywood films. Malhotra began a career as a model at the age of 18. Dissatisfied by the profession, he went on to work as an assistant director to Karan Johar in the 2010 film My Name Is Khan. He made his acting debut with a leading role in Johar's comedy-drama Student of the Year (2012), for which he received a Filmfare Award for Best Male Debut nomination.
Malhotra played an aspiring businessman in the critically praised comedy-drama Hasee Toh Phasee in 2014, following which he starred as a hardened criminal in the romantic thriller Ek Villain (2014) and an aspiring author in the family drama Kapoor & Sons (2016). The latter two rank among Malhotra's highest-grossing films, with a worldwide gross of over ₹1 billion (US$16 million) each.
While shooting outdoors for his movie a Gentleman, the 32-year-old tried electrical muscle stimulation to make up for the lack of gymming. Excerpts from
an interview:
You are showing off a toned body for A Gentleman. Was this the most challenging part about this movie?
Building this kind of physique demands a lot of time and effort. The action training, performing for two different characters and shooting in various locations (Mumbai, Miami and Thailand) also took time. The genre of action-comedy seems easy-breezy but it has so many ingredients — comedy, romance and action. Also, A Gentleman is not a typical double role; there is a twist to it.
How did you shoot for two different characters?
Since we never shot for both the characters on the same day, I could separate them mentally. The film is about mistaken identity and their world is different from each other. Gaurav wants to learn to cook for his wife, get a mini-van so that he can take his family for a drive and loves his 9-5 job. Rishi is a loner and does not mind taking risks. A lot of humour came out of Gaurav's character and action from Rishi's.
Do you think that your journey in the industry is alike to the movie's tagline, Sunder Sushil Risky?
The risky part came first for me. I moved to Mumbai from Delhi to do a film directed by Anubhav Sinha which never took off. To stay back was a risk, I did not have a family to fall back on. Finding a home in Mumbai and trying to make a living from modelling was tough. I joined the My Name is Khan crew as an assistant director before I auditioned for Student of the Year and bagged a lead role in it. Till then, everything was a risk. Doing Ek Villain and Brothers were also risky. When I entered the industry, I was called sunder. Maybe, I have to become sushil now.
Is that risky phase in your career now over?
Yes, it is over in terms of getting films. But every movie is a risk. I am extremely attached to each movie that I do and I wish everyone would watch it. I have tried to keep each film of mine very different. Being from outside, I believe today we are competing with so many mediums and content. My point of view is that an actor doing the same thing in consecutive movies won't be appreciated.
How has this outsider's perspective worked to your advantage?
There are certain aspects and details of the industry I am unaware of. I have seen people obsess over production and the business of movies. Not being aware of these things keeps me sane and I have less pressure. I don't think I will ever stop being that middle-class Delhi boy because for most of my life I have been that. That helps since most of our audiences belong to the middle-class.
How do you go about picking your scripts?
I go by my instinct. I don't believe that anyone else can take the decision on my behalf. After working for the last five years, one learns to follow one's instinct. Also, one has to know what one wants from each movie. I am doing Aiyaary because I like Neeraj Pandey's movies, which are content-driven. Ittefaq is a murder mystery, which I have never done, and my role is more performance-oriented.
In your career you have tasted success as well as failure.
I am very grateful for the monetary success and for having a particular lifestyle. As far as dealing with success and failure is concerned, both are short-lived. I can't keep saying that my last hit came three years ago. Similarly, I can't brood over my failure. When Bar Bar Dekho didn't work, it was not a happy feeling. But we as an industry live in the present. Some iconic performances live on. I am hoping to find such roles.
Had you not been an actor, what life would you have chosen for yourself?
Maybe a bartender in New York. The energy of that city is such that you can start a conversation with a stranger. The bartenders are most friendly there. As a bartender in New York, I would get to know so many people and their stories. I would have also picked up some juggling tricks