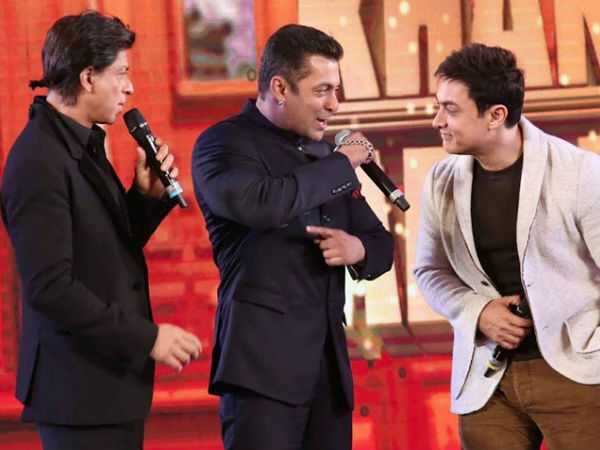 Aamir Khan has long-standing friendship with Salman Khan and Shah Rukh Khan which stood test of time. It has gone thru their own share of fights but their love and appreciation for each other work.
During the recent interaction with the media, secret Superstar actor talked about his first interaction with his good friends Shah Rukh Khan and Salman Khan. On his first encounter with Salman Khan, he revealed that, "The first time I met Salman was at Babla's [director Aditya Bhattacharya's] house, who made Raakh [1989]. Incidentally, Salman and I were in the same class for a year in the second standard [at St Anne's, in Pali Hill]. And we didn't know each other then! I was at Babla's house to discuss a short film called Paranoia, where I was the actor, spot-boy, production head, first AD – all rolled into one. We shot that film for a month."
He further added that, "I was 15, and this is the first time I ever acted. Salman was cycling around in Carter Road. He knew Babla too. We stood in the balcony and talked. He told me about how he also wanted to become an actor. I thought of him as a sweet chap."
Aamir Khan also reminisce the first time Shah Rukh Khan and was quoted saying that,  "Shah Rukh, I remember meeting briefly, when I was shooting with Juhi [Chawla], somewhere on the road. He had begun shooting a film with her [Raju Ban Gaya Gentleman]. Deewana [his debut, 1992] hadn't released yet. He was sweet, and it was a warm meeting."
The 3 Idiot actor also revealed about the parameters to judge anyone's stardom and was quoted saying that, "Back in the '90s when there wasn't so much talk about box-office numbers, how could you tell someone is finally a star? From the time I was seven, I remember reading Trade Guide, and other box-office journals. We would check out the figures of dad's films, and there would be a circuit-wise breakup. Within the industry, the [box-office] knowledge was always there, since cinema has always been around as a business."
These are really adorable confession.