Varun Dhawan ,Hrithik and Sonakshi Sinha condemn the Death threat that are being given to Deepika Padukone and they admit that this is not right.
It is a clear indication of our level of evolution. We are still evolving as a society and as individuals. It is a reflection of the fact that we still have a long way to go to evolve into beings, that bereft of these problems and issues of assumptions and attacks. It is not right," Hrithik said, who has worked with Bhansali in Guazrish.
"Protesting peacefully is fine. It is a democracy and everyone should be allowed to voice their opinion and we should totally respect that.
"But making a (death) threat should not be allowed in a democracy. And I believe in our judiciary, I am sure they will manage it," he said.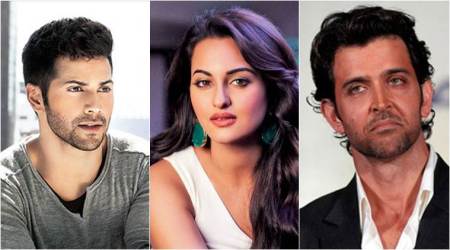 Sonakshi said the kind of protest film and the cast members are facing is not "correct". "… Whatever is happening is not right and it shouldn't happen. In our country, if threats are given openly, it is not a correct thing. I think strict action should be taken against it."
Shahid Kapoor who plays Maha Rawal Ratan Singh in the film also spoke about the controversy and had said, "Any kind of conversation which is violent in nature is not nice. It is not in good taste. I think it is absolutely uncalled for and unfortunate."