Priya Prakash Varrier has become an internet sensation ever since Malayalam song clip from Oru Adaar Love that has taken over the Internet by storm, this Valentine's Week. The song has amassed on 4.7 million views in less than 2 days on YouTube. But what is caught the attention of the song but on the adorable flirtatious exchange between the girl and the boy that has sent people on social media into a tizzy.
In the video, we get to see Priya essaying the role of a quintessential high-school romance as a boy and a girl exchange flirtatious glances. But was makes the video going viral is Priya's expressions and a playful wink which catapulted her to become an overnight star. It is safe to say she can be dubbed her as a 'national crush'.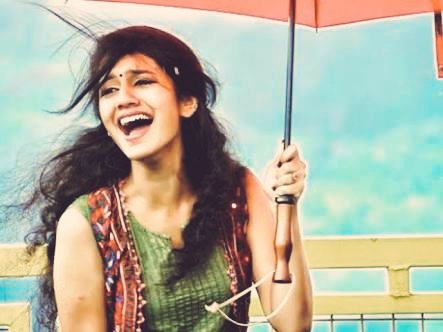 The teenager is overwhelmed by the response she's getting for her performance. During a recent interaction with the media, she never imagined that her life would change this way overnight. The actress also opened about future plans and said that I want to work with Shah Rukh Khan and want to do a Sanjay Leela Bhansali's film."
As informed earlier she has been dubbed as the 'National Crush of India'. The actress can't believe with the title bestowed on her and was quoted saying that, "Hardly there were 2 or 3 boys who crushed on me. And now, they've made me the national crush of India."
The song from Oru Adaar Love has been composed by Shaan Rahman whcich has been loved by The song follows the story of he innocence of high school romance and Priya Prakash Varrier's mischievous wink which has won millions of hearts. Also in matter of few hours Priya Prakash's Instagram account has garnered more than 2 million followers. Also, her Instagram account has been verified.
Here are few stunning pictures of internet sensation:-