Ranveer Singh is having a dream run at the box office with his recent release movie Padmaavat becoming his highest earning movie at the box office. In a matter of seven years, he has gone leaps bound on becoming one of the most successful actors. Ranveer Singh will net be seen in Simbaa, Gully Boy, and Kapil Dev Biopic.
During a recent interaction with media Ranveer Singh was quoted saying he is pumped up to collaborate with Kabir Khan and will be seen playing legendary cricketer Kapil Dev. The movie will focus on the 1983 World Cup and s being touted as the biggest Indian sports film ever made on the silver screen.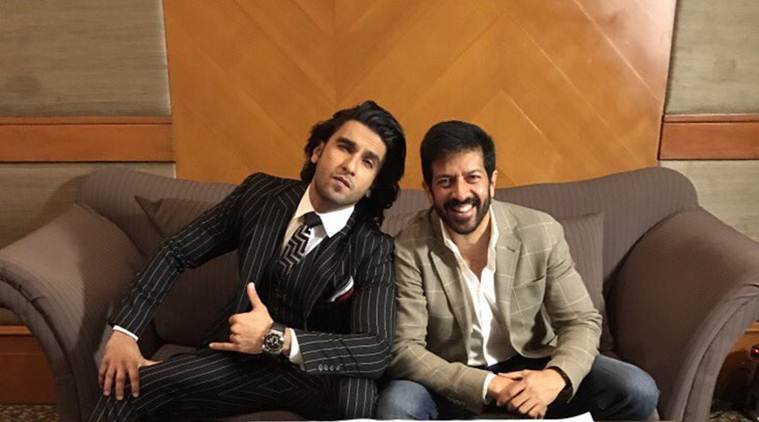 During a recent interaction with the media, Ranveer Singh was quoted saying that he felt honors that Kabir Khan had faith he would be perfect to play a legendary sportsperson. He also said that Kabir Khan and Madhu Mantena (producer) came to me saying they wanted to pitch a film – about the 1983 World Cup. Madhu explained why it could never be made till now. Reason being, when showing a team sport, you have to take the life rights of 18 – 20 people, which is a mammoth task. No producer had managed to do it until now."
Post getting to know this fact he got motivated to be part of this project. Bajirao Mastani actor further added that he has been a fan of Kabir Khan ever since he saw   Bajrangi Bhaijaan and found the movie mesmerizing to the core. Ranveer Singh walked down the memory lane and shared experience what happened when Kabir Khan gave him the narration. He was quoted saying that, "The way in which he told the story was universally pleasing. It had made me cry. It was an entertainer replete with emotions and good performances"
Ranveer Singh also informed that he has been a huge cricket fan ever since his childhood. He also informed that people interest towards game increased ever since Indian cricket team won the first World Cup in 1983.  The win is special as it was a story true underdogs who went into the tournament thinking they might play one or two matches and they will fly back home but destiny has other plans. But their dream run continued and went on to defeated West Indies. The movie will give emphasis to the coming-of-age of not just a cricketing team, but of a young nation in the eyes of the world.
Dil Dhadakne Do actor feels it was greatest Indian sports story and still cant feel that the makers wanted him to play Kapil Dev. Ranveer Singh added that a while back during an interaction with media was asked which sportsperson would he like to play in a biopic and was quoted saying Kapil Dev. He feels that he has a divine connection to play this part in the movie. Kapil Dev's contribution to the World Cup victory is exceptional; especially his '175 not out'. The sad part is that it was not recorded because BBC was on strike that particular day. The innings has just one photograph. We just hope and pray the scene will be shown in the movie.