Salman Khan is a kind heartede person and we have all seen this multiple times,Recently Siddharth Malhotra narrated a story when salman Khan came over to congratulate him on his movie. That was the biggest surprise ever for Siddharth and he just narrated it with a big smile, though Salman and Sidd have not been together in a film neither they have any friend circle with each other.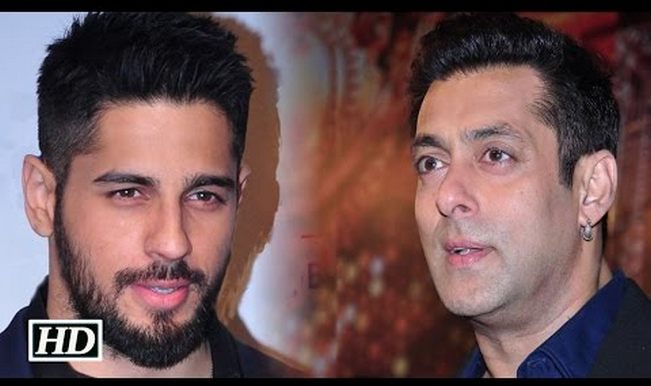 Check what Siddharth tells us:
"I got to know him really well during Ek Villain actually. I had met him a couple of times before that but I remember on this one Saturday, I was having a small gettogether at my house; we were celebrating the film where I called the cast and the producers. And he (Salman) was very sweet to just call up and say, "Hey congratulations, I heard the film did really well. I said ya sir thank you and he was like, call me "Bhai". You know I don't know him so much so I just couldn't call him Bhai because it was a little bit odd to talk to Salman Khan. I said you know we are right here and I also stay in Bandra so please come over if you are free. But he said no, I won't come you guys carry on.",
But much to Sid's surprise, his new "Bhai" further decided to surprise him at his residence as Sid adds, "After about 45 minutes, we are all in our apartment and everything else is happening, there's music and the bell rings and you find Salman standing at the door. It was very cool and gracious of him. He came with his friends, he had this smile on his face and he is like how are you man? Congratulations" Oh, we can totally imagine how thrilled Sid must have been after seeing Salman visit his home. Guess, he's still equally thrilled.
You see, people don't love Salman Khan just like that and here's yet another proof.; that too coming from one celebrity to another. Such is the kind of person Salman is…full of love and warmth.