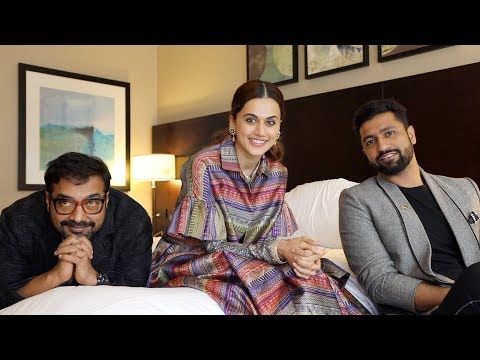 Vicky Kaushal plays the role of Vicky, a crazy music composer waiting for his first break. He loves Rumi (Taapsee Pannu), who gives him a day to bring his parents to her house in order to step up their relationship. Enters Robbie (Abhishek Bachchan), a perfect husband material, who's in India looking out for a bride.
Vicky Kaushal is riding high with the back to back success of Raazi, Lust Stories and Sanju. He has emerged not only as a fine acting talent, but also as a box-office draw. Ahead of his new release Manmarziyaan, he gets chatty about dealing with stardom, working with Anurag Kashyap and his love for the craft of acting.
Vicky kaushal said "Vicky Sandhu is my alter ego. Vicky Kaushal is Clark Kent, Vicky Sandhu is the Superman inside him. If you start playing Punjabi songs, the Vicky Sandhu in me will come out immediately,"
Anurag Kashyap continues his edgy direction on this side of genre. This is his first attempt at exploring love in a more realistic way and he's doing very well at least till the first half. The confusion between Vicky and Rumi's character is written very well and dialogues like "If I can't marry you that doesn't mean I don't love you" back up the strong screenplay.
Manmarziyaan, featuring Taapsee Pannu and Vicky Kaushal along with Abhishek, is releasing on September 14. Stick to this space for full review!